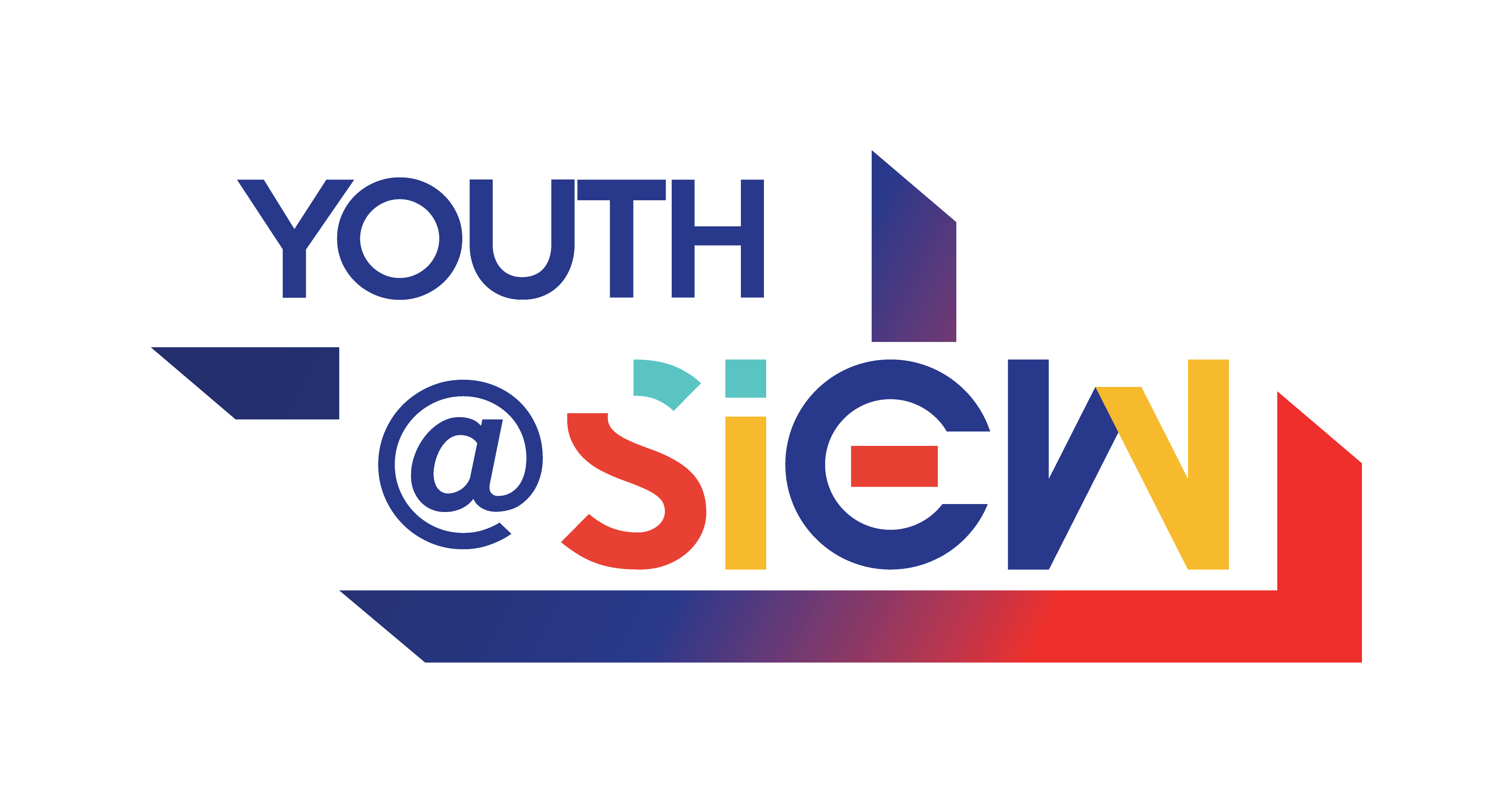 ---
Organiser: Energy Market Authority
Date: 29 October 2021
Time: 9:00am - 11:15am (UTC +8:00)
Venue: Virtual Event
Click here to watch the recording of the event.
Held during the annual Singapore International Energy Week, Youth@SIEW is a key outreach platform to engage tertiary students and educators on the latest energy trends and career opportunities in the energy sector. The theme for Youth@SIEW 2021 was "Seizing Opportunities in Singapore's Energy Transition". Ms Low Yen Ling, Minister of State, Ministry of Trade and Industry & Ministry of Culture, Community and Youth encouraged our youth to be part of this exciting journey and be the vital force in shaping Singapore's sustainable energy future.
The virtual event provided insights on energy developments and challenges, and participants engaged in discussions with industry and government on their hopes for a low-carbon future and how we can get there with our energy transition efforts.
Youth@SIEW also featured exhibitions that showcased energy-related innovations by students from various institutes of higher learning.
Time
Programme
9:00am
Pre-Dialogue

 
Opening Remarks
Ms Low Yen Ling, Minister of State for Ministry of Trade and Industry (MTI) & Ministry of Culture, Community and Youth (MCCY)
 
Sharing by Industry Speaker
Dr Mark Lim is the CEO of Aliena and Space Expert-In-Residence to the Darwin Innovation Hub. He was awarded the Nanyang Outstanding Young Alumni Award which recognises NTU alumni, under the age of 40, who have made outstanding achievements in their chosen fields and have brought honour to the University. Dr Lim is also an Adjunct Principal Investigator with NTU, helming emerging topics such as nuclear fusion, and geothermal systems. He is a strong advocate of STEM education, and spends time volunteering with non-profit STEM organisations. Dr Lim believes strongly in inspiring youths to continue to take up careers in STEM for them to address the challenges of their generation.
 
In Dialogue with Youth Panel Discussion

Ms Low Yen Ling, Minister of State for MTI & MCCY
Dr Mark Lim, CEO, Aliena
Ms Jen Tan, Head of Integrated Solutions (Singapore and SEA), Sembcorp Industries

Ms Jen Tan is responsible for growing the portfolio of offerings under Sembcorp's suite of sustainable solutions in Singapore and Southeast Asia – these include integrating energy, water, waste and digital solutions that help customers meet their environmental sustainability targets. Prior to her current role, she was responsible for business development, project development and execution as well as operations and maintenance of solar projects in Singapore and Southeast Asia. Under her leadership, Jen has successfully grown the business to become one of the largest solar players in Singapore. Jen has over 11 years of experience in the solar industry.
 
Energy Ambassadors Programme Recognition Ceremony

 
Energy-Industry Scholarship Award Ceremony

11:15am
End of Programme

To find out more about the sector:
2021 Youth Energy Showcase
ITE College Central
1. Hydropower Farm
Summary of project
This project aims to utilise a climate-friendly energy source (water) to generate power to secure a low-carbon future, aligning with government efforts to build Singapore's climate resilience and prepare for the long-term effects of climate change. This project explores the use of hydropower to generate electricity without generating carbon emissions.
Click here to view the project poster
2. Water Saving Device for Washing Machines
Summary of project
This project aims to design and construct a simple device that can divert drainage water from the washing machine's drainage pipe at the right time so that the collection of the last rinse water is effortless. The device should be cheap and simple, can be retrofitted to the washing machine and should not require any electricity to function.
Click here to view the project poster
Republic Polytechnic
3. Development of Liquid Cooling Technology for Solar Modules
Summary of project
This project aims to study and develop various cooling systems that can be deployed to reduce the temperature of solar panels to improve their output efficiency. The ability to reduce the operating temperature of solar panels will enable Singapore to utilise less space in solar panel installation and increase solar generated electricity.
Click here to view the project poster
4. Development of Multi-Functional Passive Cooling Self-Cleaning-Self-Disinfection Film in Greenhouses
Summary of project
This project aims to study the performance of various multi-layered films used in the windows of greenhouses by using magnetron sputtering film deposition technique. The ideal films to be used for greenhouses should have high UV filtration, low near-infrared radiation (NIR) transmittivity, good light diffusion and self-cleaning-self-disinfection properties.
Click here to view the project poster
Singapore Polytechnic
5. Net Zero, Renewable Energy Vertical Farming
Summary of project
This project aims to design, develop and demonstrate renewable energy-based, net-zero energy solutions for urban hydroponic vertical farming systems.
Click here to view the project poster
6. Real-time Monitoring System of DC Micro-Grid with Health Prognosis of Renewable Energy
Summary of project
This project aims to develop a real-time condition monitoring system that can track the health of a DC micro-grid in real-time. With the data collected, the team is also able to conduct degradation studies to predict and prevent problems from occurring.
Click here to view the project poster
Temasek Polytechnic
7. Shell Eco-Marathon Urban Concept Car
Summary of project
This project aims to build a functional, high-efficiency car powered by hydrogen fuel cell technology with the use of high-efficiency motors in a two-wheel-drive system. This prototype aims to provide an alternative to petrol-based vehicles to help Singapore cut down on pollution.
Click here to view the project poster
8. Urban Farming with a Twist
Summary of project
This project aims to improve the energy efficiency of solar panels, by reducing the temperature around the solar panel with vapotranspiration from the plants, copper cooling running below the solar panels and evaporative cooling. Reduction in temperature of the solar panels is also expected to increase the lifespan of the panels.
The project also efficiently utilises space and energy resources by having the hydroponics system powered by the solar panel. By combining solar panels and hydroponic crops, this solution can be replicated to tackle land scarcity by maximising Singapore's existing space.
Click here to view the project poster
Nanyang Technological University
9. AI-Assisted Smart Air-Conditioning Control
Summary of project
This project aims to improve energy efficiency and indoor human comfort through the development of an AI-based smart building systems control solution in buildings employing building management systems (BMS). The AI-based solution is innovative as it departs from the conventional reactive control, and employs a predictive control strategy by synergising online machine learning and model predictive control for smart building energy management applications.
Click here to view the project poster
Singapore Institute of Technology
10. Design and Operation Optimisation of a Multi-Energy Micro-Grid
Summary of project
The project aims to (i) determine the optimal sizes of components in the Multi-Energy Micro-grid (MEMG) which is also called design optimisation; (ii) decide on the optimal schedule for a MEMG given a fixed optimal sizing; and (iii) implement both optimisation problems in Python using an Optimiser software. The Gurobi Optimiser captures the key features of the optimisation problem in a mathematical optimisation model, and generates an optimal solution based on the defined decision variables. In order to solve the optimisation problem, the user needs to define the problem including objective functions, decision variables and constraints in Python based on the format required by Gurobi. Gurobi, as a solver, will then retrieve the defined optimisation problem and solve it.